Hello everyone! I am finally updating my website regularly again! Which means more bloggery! Starting with this breakdown of what's been going on with Leanore.net ! What's New! Updated Artwork Galleries Streamlined Home Page Improved Website Footer Friends & Affiliates Page I'll go into a little more detail about these updates in the sections below. Updated Artwork Galleries While I was poking around the site, looking to clean up some of the design elements, I noticed something was seriously wrong. Apparently, none of the recent artwork that I had added to the gallery had actually synced to the published page. Which left my galleries looking dusty and outdated. I've made sure to remedy this as well as implement some changes on the back-end that should prevent that sort of thing from happening again. I also updated the way the gallery pages look, so check that out when you feel like it! Streamlined Homepage You don't need to know what the Homepage looked like before in order to appreciate the way that it looks now. The biggest thing, visually, is leaner slider at the top. Not only did I make it narrower, I removed any animated elements from within the slides. This has sped up the load time for my website by a LOT! I also prioritized the content that was featured "above the fold" while making sure to keep the amount of information that gets thrown at the visitor on the home page to a minimum. I realized that the old homepage was pretty long and tried to give way too much information at once, rather than giving the visitor the tools they need to navigate without being too pushy. I'm pretty pleased with the results! Improved Website Footer The footer had long been the spot I randomly put buttons to things like the contact page and tip jar. Now, I've actually "snazzed" it up to feature recent posts and links to my friends' websites and content! I'm sure the footer will continue to evolve, but for now it's just neat that I'm actually USING it. Friends & Affiliates Page The little section in the footer isn't the only place you can find links to friends and affiliates of Leanore.net! I've also taken the time to create a full page to feature those links. I'm making sure to label the affiliates and friends accordingly. This helps folks know what links might earn me a percentage if they make any purchases on the site they are checking out. Take a click around! I encourage you to click around and let me know if anything seems broken, or needs improvement!
The Pin Giveaway Winners Have Been Chosen!
I've run the list of Giveaway entries through a randomizer and gathered a list of 3 winners who will be emailed this evening at the email...
I'm Doing Another Giveaway!
I am giving away 3 Acrylic pins featuring my artwork!
I Love My Watercolor Sketchbook
A short tale about making smarter paper choices for my art.
Don't Kill my "Vibe": 3 Simple habits for happier days
I've been trying to live life a little more "mellow" lately. It's been a little bit difficult but not impossible.
I've made WAY too many GIFs...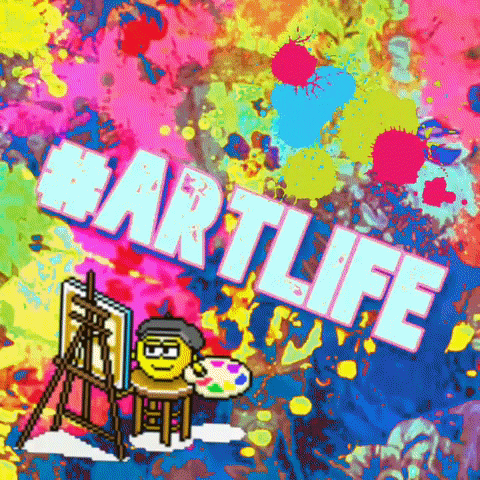 I'm not sure if I'm exaggerating or not actually. I just thought it would be fun to throw some of my favorite custom GIFs that I've made...