Beautiful Monsters are Here!
If you follow me on twitter, you've already seen them. However, I still felt like they deserved their own little announcement here on the website as well. I'd like to officially introduce you to my ongoing themed art collection "Beautiful Monsters". My Inspiration The initial inspiration for this collection came to me fairly organically. I came across a doodle in one of the sketchbooks that was just an eyeball with two irises. This gave me the desire to do an entire face and include the eye with two irises. This was the first face created for this collection. I gave her the "infinity" symbol on her forehead to remind me that she was the first, and the source of potentially never-ending inspiration for more beautiful monsters. After the first face, the rest just came pouring out. I wanted to do different color combinations and feature configurations. Once I ended up with an entire rainbow of incredibly unique faces, I decided it was a good time to scan them all in and launch the collection to the world. Get your Hands on a Beautiful Monster! The original watercolors may be for sale in the future. For now, you can get high-quality prints and merch featuring these lovely designs over on Leanore's RedBubble store. You'll find each of the Monster Faces featured individually as well as all of them in a rainbow spectrum combo pattern. Want something a little more exclusive? You can also get the Amazon Store Exclusive T-Shirt Design from the Amazon Marketplace TODAY!
The Pin Giveaway Winners Have Been Chosen!
I've run the list of Giveaway entries through a randomizer and gathered a list of 3 winners who will be emailed this evening at the email...
I'm Doing Another Giveaway!
I am giving away 3 Acrylic pins featuring my artwork!
I Love My Watercolor Sketchbook
A short tale about making smarter paper choices for my art.
Don't Kill my "Vibe": 3 Simple habits for happier days
I've been trying to live life a little more "mellow" lately. It's been a little bit difficult but not impossible.
I've made WAY too many GIFs...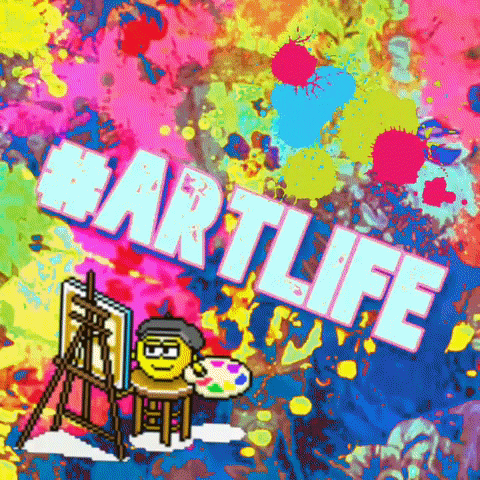 I'm not sure if I'm exaggerating or not actually. I just thought it would be fun to throw some of my favorite custom GIFs that I've made...