Art & Site Updates for July
I realized it had been awhile since I had actually posted a worthwhile update on here. Obviously leading to the creation of the post you're currently reading. Neat, right? Art Updates I've got a lot of different ideas, concepts, designs in my head that I'm hoping to translate out into visual representations soon. I've hit some brick walls though. I lost a lot of data, including the license info and install packages for my art preferred art programs. Most tragically being Paint Too SAI. My fully unlocked version of that particular digital art program was perfectly calibrated to my needs. I haven't been able to find anywhere I had the package or download link/code information saved to be able to recover the full version without having to repurchase the application. I'm looking into and trying to get used to some free and open source art programs in the mean time. Because, I honestly can't afford to purchase or license anything impressive right now. If someone wants to buy me Photoshop or something, that'd be nice. Website News As far as the website is going, I've been working on the Toolboxes. I am hoping to get the Mental Health toolbox set up first - then I'm going to start building the Artists' Toolbox next. Hopefully, these resources will prove useful to a few people. If anyone ever actually ends up visiting my website, of course. Other than that, I've been pretty satisfied with the website and there haven't been any major updates.
The Pin Giveaway Winners Have Been Chosen!
I've run the list of Giveaway entries through a randomizer and gathered a list of 3 winners who will be emailed this evening at the email...
I'm Doing Another Giveaway!
I am giving away 3 Acrylic pins featuring my artwork!
I Love My Watercolor Sketchbook
A short tale about making smarter paper choices for my art.
Don't Kill my "Vibe": 3 Simple habits for happier days
I've been trying to live life a little more "mellow" lately. It's been a little bit difficult but not impossible.
I've made WAY too many GIFs...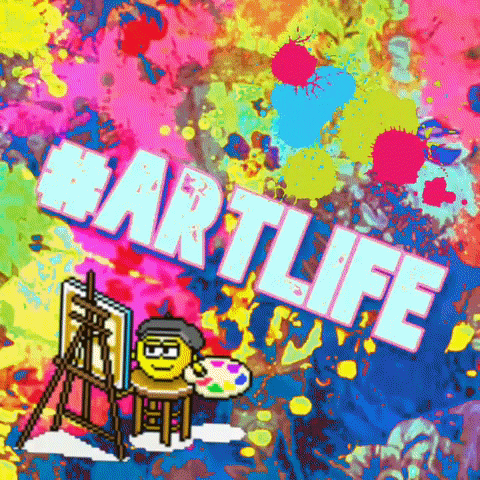 I'm not sure if I'm exaggerating or not actually. I just thought it would be fun to throw some of my favorite custom GIFs that I've made...